(Check '

High-lighted Contents

' in the sidebar of this blog to see more articles about anomalia, health and treatments )
S
urgeons in Peru are preparing for an operation to separate the legs of a girl born with the rare condition "mermaid syndrome" or "sirenomelia".
Nine-month-old

Milagros Cerron

has been dubbed the "little mermaid" because her fused legs resemble the tail of a fish.
Usually babies with the condition die within days of birth. Milagros is one of only three known survivors.
A medical team, led by surgeon Luis Rubio, will operate on the girl in a hospital in Lima.
The team includes trauma surgeons, plastic surgeons, cardiovascular surgeons, neurologists, gynaecologists and a paediatrician, and the operation is expected to last five hours.

Most sirenomelia sufferers have severe organ damage and die within hours.
The only person who is known to have survived in the long term is 18-year-old American
Tiffany Yorks
, whose legs were separated before she was one year old.
~~~~~~

Back to Milagros -
whose name means miracles in Spanish.

Her abdomen merges into her legs, which are connected by skin down to the feet, which are splayed in a V-shape.
She has normal bone structure and independent movement within the two joined legs.
She has only one kidney, and only a single channel for her digestive tract and genitals.
Like many toddlers around the world, two-year-old Milagros Cerron is taking her first tentative steps. However, her parents have more reason than most to be proud of their little daughter.
But just over two weeks after an operation to separate her legs she took her first unaided steps across the room.
A team of eight specialists in Peru successfully carried out a number of operations on the two-year-old girl, known as the "Little Mermaid", to fully separate her legs and enable her to walk unassisted.
Born with her legs fused to the ankles and her feet splayed, Milagros looked like one of the mythical mermaids before her operation.
In June 2005 doctors successfully performed risky surgery to separate her legs to above her knees.
The second operation was carried out to separate the remaining fused tissue just below the groin.
Surgeon Luis Rubio who led the specialists, said after the surgery: "There were no problems...no complications from anaethesia or from haemorraghing."
"I expect to be walking the streets of Lima holding her hand in December, which would be a Christmas gift for her family."
He said Milagros, affectionately called "the little mermaid" by Peruvians, had developed the ability to stand alone without help and take small assisted steps.
Wearing a red headband, red pants and a red T-shirt, she took shuffling steps holding onto Rubio's hand and blew kisses to photographers.
Rubio has said Tiffany Yorks, a 17-year-old American, was the only other person known to have undergone successful surgery to correct the rare congenital defect, which occurs in one out of every 70,000 births and is almost always fatal within days of birth.
The surgeon calculates Milagros will need at least 16 more operations in the next 10 years to reconstruct and repair her digestive, urinary and sexual organs.
Hopeful
But because the operation will not concentrate on these areas, Dr Rubio says he feels her chances of survival are good.
"Every surgical procedure has risks but we are taking every precaution," he said.
She will need operations to correct her rudimentary digestive channel and genitals at a later date.
Milagros was born in the mountain city of Huancayo, 200km (125 miles) east of Lima, to very poor family.
Her father, 24-year-old Ricardo Cerron, said: "I keep thinking about what's going to happen and how's the operation going to be."
Mother Sara Arauco, 19, said: "My dream is that everything is going to turn out well."
~~ Shiloh Pepin
dies at 10~~
The Mermaid girl
Shiloh Pepin, known as the Mermaid Girl, was not expected to survive after she was born without many of her internal organs, including her bladder, large intestine, rectum and a large section of her kidney.
Shiloh had her first kidney transplant when she was two years old. This was followed by a second transplant in August last year, and many other operations to reconstruct her organs.
But despite her obvious hardship, the courageous little girl is determined to live a normal life.
She has become a well-known personality in her home town of Kennebunkport, Maine, where one of her favourite activities is to go bowling.
She has also taken ballet classes and participated in a rehearsal for a dance recital, during which she sat and swayed on the stage
Dr Matthew Hand, a kidney specialist at the Barbara Bush Children's Hospital, said it was possible to surgically separate Shiloh's legs - but Shiloh is not join his enthusiasm.
"Dr. Matt asked me if I wanted to get my legs separated, and I said: No. I said, better just deal with it and stick with the 'no' answer,"

Shiloh said.
She was 10 years old only.
.
... Doctors had predicted she would survive only for days after her birth at the most, but the girl, described by her mother as "a tough little thing," died at Maine Medical Center on

Friday afternoon oct 23, 2009

, hospital spokesman John Lamb said. She had been hospitalized in critical condition for nearly a week.
.
.
Another 'Mermaid girl' awaits operation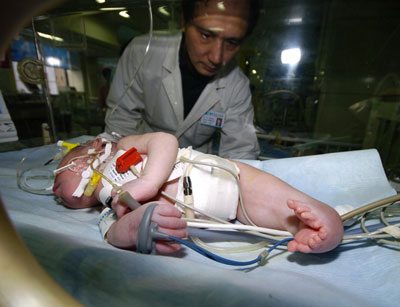 Maomao

the 10-day-old baby who was born with her legs joined together undergoes a medical check-up by a doctor at the Changsha Children's hospital, Central China's Hunan Province on November 21, 2006. The newborn, dubbed mermaid girl, had a rare congenital defect known as 'mermaid syndrome.' Doctors are preparing to make operations to separate her legs. [Xinhua]
The baby was found abandoned outside a children's hospital in the Hunan Province in central China.
The baby has more problems than just his legs; he has no kidney or urinary tract, for starters. Doctors have a lot of work ahead of them to save the baby, even before they think about separating his legs. Sirenomelia is almost always fatal within days after birth
~~Other ANOMALIES~
~
1. OBESITY surgery,
2
FACIAL TUMOR (Neurofibromatosis),
3. A NEW FACE AFTER TRANSPLANT,
4. Blind man sees through tooth.
5.
31 fingers and toes
Previous post,